Self Priming, Single Stage, Semi Open Impeller centrigual pump suitable for dirty water or waste water with solid size limit to 75mm(3′) or pumping condition needing negative priming starts.
This is possible with integrated casing and internal vents and check valve construction that allows water and air to seperated to achieve negative priming.
Designed with grease lubricated bearing for min maintenance and oil lubricated for cooler bearing operation.
Another great feature, enternal wear plate and impeller adjustment that allows uninterupted operation while maintaining maximum pump efficiency at all time.
Applications
Industry
Waste water treatment
Transfer of low viscosity petroleum products
Recovery of dirty solvents
Emergency duty
Civil Engineering/Civil Defence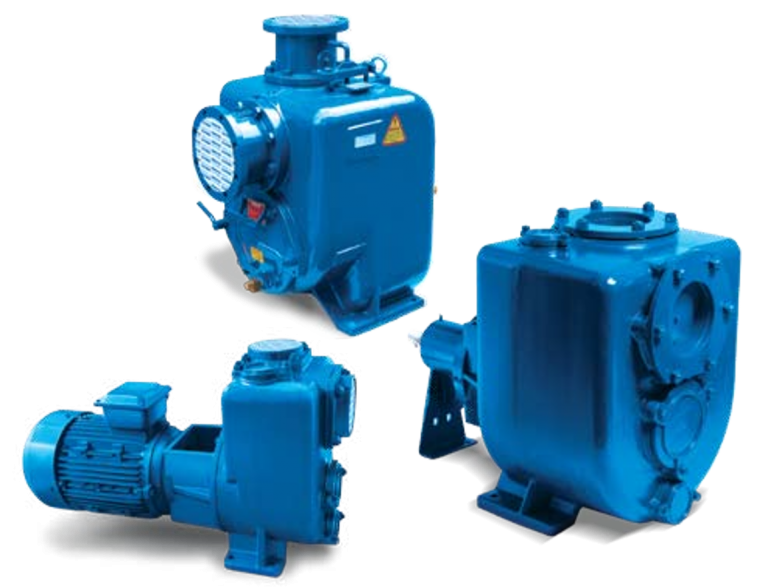 Pump Category:
Pump Type:
Flange:
Materials:
Mounting:
Surface
Semi-Open Impeller, Self Priming
ANSI B16.5B (optional), DIN 2332 (std)
Cast Iron, Ductile Iron, Bronze, Stainless Steel, Carbon Steel, Hastelloy
Bare Shaft, Engine Driven, Closed Coupled (EJM)
40 – 300
up to 1,250m3/hr
up to 10bar
65m
-10ºC to 80ºC standard
up to 3,600rpm