11A and 11B Series Automatic Nozzles
Safe for Use
UL and ULC listed for use in gasoline, diesel, and up to 10% ethanol blends. See specific listings.
Prevents gasoline spills in prepay or card lock systems utilizing OPW's unique No Pressure
No Flow Device. The nozzle cannot be opened until the pumping system is pressurized, and closes automatically when the pressure is removed. (11B Series Only)
Prevents consumer from jamming the nozzle in an open position
Blocker on lever guard.
FlowLock
allows nozzle to shut-off when falling out of a vehicle, and tipped up limiting spillage and unsafe conditions.
Durable & Long Lasting Design
Cycle tested and proven to last longer than 1 million cycles – Better than any other nozzle available on the market today*
Stainless Steel spout tip that lasts four times longer than standard aluminum spouts*
Durable lever guard that won't scratch your customers' vehicles
Made from Duratuff
New hold open clip spring lasts longer than previous designs
Appealing to Customers
Easy to use
Utilizing Accu-Stop
to-the-penny Flow Control Technology.
Attractive 2-Piece Newgard
Hand Insulator is the most comfortable nozzle in the industry to use.
Convenient
One-fingerhold-open clip that is easy to set the flowrate (not on all models)
Design working pressure
50 PSI (3.45 bar) maximum pressure.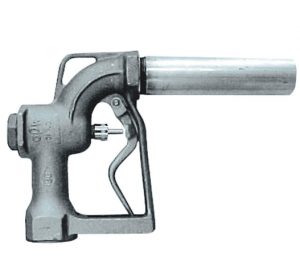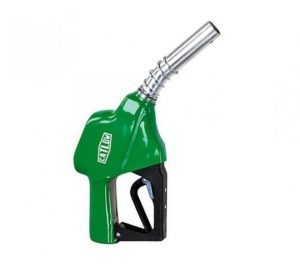 Catlow Nozzles, Swivels & Breakaways
Catlow's product line consists of new and rebuilt UL Listed gasoline, diesel and vapor recovery nozzles, swivels and breakaways. Catlow also manufactures hose retractor systems and adapters for conventional and stage II dispensers. Catlow has developed a product line to meet the requirements of alternative fuel dispensing with products compatible with E85 as well as Biodiesel fuels.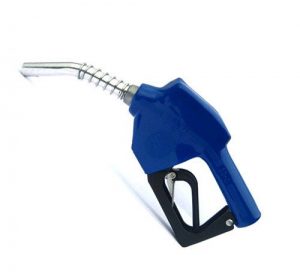 Husky 1GS: Automatic Nozzle
1GS nozzle shuts off when the gas tank is full.
Nozzle equipped with unique Flo-Stop device that shuts off the nozzle if it falls from the fill tank or raises above the horizontal.
Not for use with gravity tanks.
Not legal for retail dispensing applications.