The Quantium 230T is designed specifically for the requirements of the India, Africa & Middle East markets to handle a variety of fuel types. The Q230T is available with either one or two hoses with a flow rate option of 40lpm to 130lpm. Flexibility to choose between a hook or spring mast system will allow you to meet your specific market needs.
The dispenser is island oriented, and can be pressure or suction. The Q230T is manufactured under Tokheim's renowned Quality control, and is delivered with a set of innovative and robust global components to ensure greater reliability in operations, allowing you to focus on your business of fuel retailing.
TQM – Tokheim Quality Meter – The most reliable meter
All the Q30 series are equipped with the Tokheim Quality Meter (TQM). It is has been quality engineered to dispense fuel with high accuracy and precision. The meter exhibits minimal drift performance over the lifetime of the dispenser, helping our customers to reduce fuel loss to a minimum. Its robust design ensures it is suitable to work in the harshest conditions with a wide variety of fuel types. This is important over the life-time of your dispensers as it leads to a reduction in replacement and intervention on clogged filters, resulting in more uptime, increased throughput and higher, more accurate sales across the forecourt.
TQP – Tokheim Quality Pump – A proven, quality pump
Tokheim's TQP Suction Pump has proven its reliability and performance time and again in the toughest conditions and most hostile environments. More than 1 million units are installed today. Low electrical power consumption and high quality performance makes this unit a truly cost-effective pump.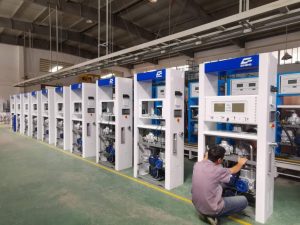 TQC – Tokheim Quality Calculator – Dispensing with Fraud Prevention focus
The Q30 series is offered with the TQC platform with a strong focus on security and fraud preventive features. It is equipped with a secure link between the pulser and the main CPU; checks are maintained on internal communications from the CPU to all peripheral's adding significantly to enhancing security. Our software and hardware is designed to prevent manipulation of measurements with digital and physical tagging of all boards and peripherals and cross validation of its integrity. The design ensures that you be best protected from loss through various manipulation attempts on the electronics, pulser or meter.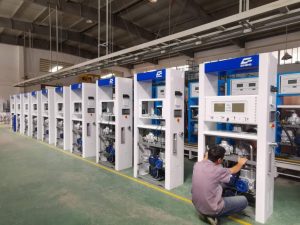 Modular build for future flexibility
The electronic platform is designed to be highly modular, where upgrade functionality like vapour recovery and temperature compensation can be added. This architecture means that it will be easier to adapt your systems for future evolution of environmental regulations. The Q230T dispensers have been carefully designed with components that can withstand a wide power input range. Optional functions to optimise energy consumption by use of energy management tools help reduce the amount of power required and contribute to a greener fuelling concept.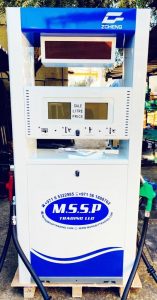 Long-Lasting Livery
We have invested in a cutting-edge design facility with a specialist team that produces your dispensers precisely in line with your graphic requirements. Our panels are made up of treated powder-painted aluminium cladding – providing long lasting life, in the harshest conditions and we provide additional options such as stainless steel.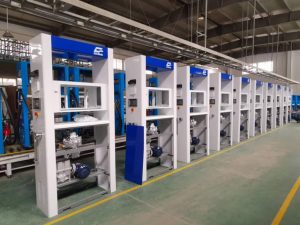 Base Models*
Standard speed (40 l/min.)
High speed (80 l/min.)
Very high speed (130 l/min.)
Double-sided and single-sided models
Flow rates depend on model, underground site layout, site altitude and ambient temperature and selected options
*Only in countries where authorised / approved for use
Environmental conditions
Ambient temperature: -25°C to +50°C
Temperature of fluid: -10°C to +25°C
Viscosity of fluid: < 10-4 m2/s
Relative humidity: 5% to 95%
Altitude: From sea level to 2000m
As Tokheim regularly improves its products in line with evolving market and regulatory requirements, it reserves the right to change any of the specifications of these products without prior notice.
Optional features
Customised livery of complete dispenser
Single phase motor
Gear pump
External filter pot
Several hydraulic inlet options
Unit price display per product
Only volume display
EMT/ Mechanical totaliser
Electronic calibration
IFSF/ Tokheim UDC interface
Main safety switch  with emergency stop
Printer with receipt printer
Electronically controlled VR system
Hose system of extra length, coloured hose and/ or cops
Only core features and options are listed. For more detailed information on available options, please contact your local Tokheim representative.